View Party Information
Last updated
Click the name of the party in the Parties | Active List to bring up the information screen for the party of your choice.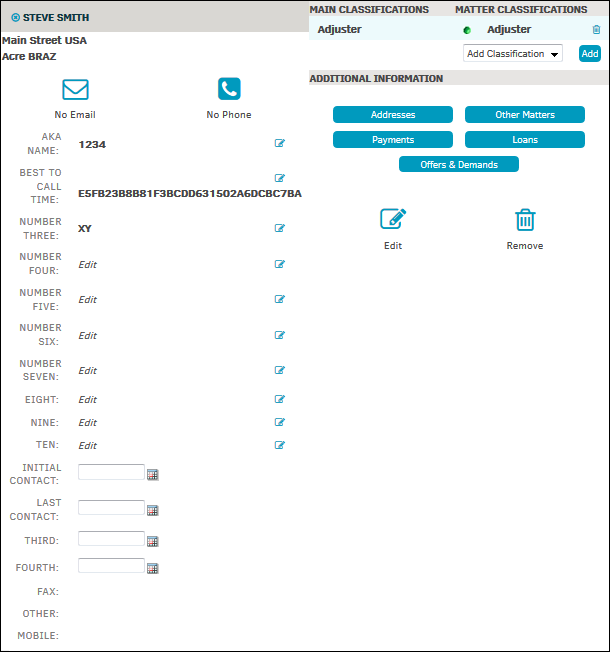 Edit a Party Associated to a Matter
—Edit the main information (such as alias name, best time to call, alternate phone number, etc.).
—Edit all contact information at once. Use the Tab button on your keyboard to navigate through the text boxes. If a change has been made in a text box, using Tab or clicking outside of the box initiates the save process. All saved information is identified by the icon to the right of the text box.
Click Finish to confirm saved changes.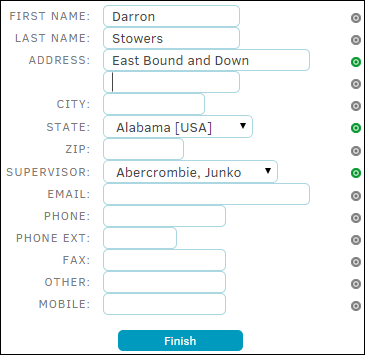 Additional information for Addresses, Payments, Offers & Demands, Other Matters and Loans can be included at this screen as well by clicking the respective button.
Additional Information Options:
| Button | Function |
| --- | --- |
| Addresses | View or add additional address information. |
| Other Matters | View other Matters to which the party is assigned. |
| | View or record a payment. |
| Loans | View or add loan information. |
| Offers & Demands | View or record an offer/demand. |