Insurance Management
Last updated
Insurance Management in Lawtrac allows you to apply insurance policies to matter records, track the results, and report them to management. Click Insurance Management from the Finance tab to see a list of insurance policies in Lawtrac.
Note: If your site administrator turns off the Insurance Management function, this link does not appear.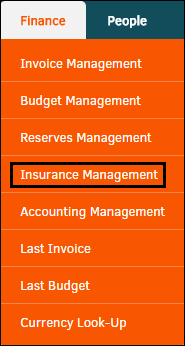 Insurance Management defaults to open on Insurance Overview. Use the sidebar on the right to navigate additional insurance pages.
View policy information and matter overview for the insurance policy by clicking on the company title.
Insurance Management Options:
| Page | Function |
| --- | --- |
| | View, add to, or edit the underwriter roster and their active policies. Depending on your site administrator's preferences, the module term may appear as either "Underwriter" or "Carrier". |
| | View a list of all policies currently in effect for your company. |
| | View a list of all expired policies. |
| | View policy occurrence by matter number. |
| | View a detailed list of all policy usage and coverage, and the matters assigned to each policy, as an overview to date. |