Invoice Approval
Last updated
The Invoice Approval hyperlink in the Legal Team sidebar allows users to view default approval chain, or set an alternate approval chain.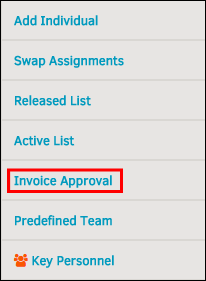 The global default approval chain is set in Application Administration.
To create an alternate approval chain:
Click Set Alternate Approval Chain.
Choose an individual from the drop-down list.
Click Set.

You can then add more individuals, or click the icon to delete the alternate approvers.