Predefined Team
Last updated
The Predefined Team hyperlink in the Legal Team sidebar allows users to assign a Legal team from a list of predefined groups rather than add individuals one-by-one.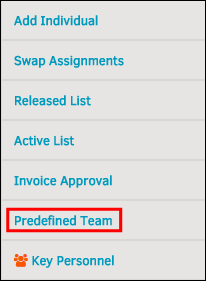 Predefined teams are initiated by your site administrator in Application Administration.
To assign a new predefined matter team:
Click the radio button next to the name of the desired group.

To assign individuals to your Legal team one-by-one, select Predefined Team Not Required For This Record. You can then start adding to your Legal team by clicking Add Individual in the Legal Team sidebar.

Click Save.