Complete Set Up for New Firms
Last updated
Steps to complete setup for a new client in Collaborati for new users (Firm Structure) 4.0
Steps to complete setup for new firms
Link to video here.
Register
Once a firm is authorized by a client, a registration request email is automatically generated and sent to the office. An email will be sent with the subject "<client name> invites you to sign up for Collaborati e-billing". Upon receipt, the office needs to sign up by following the instructions on the email.
Click on the link in the registration email to begin.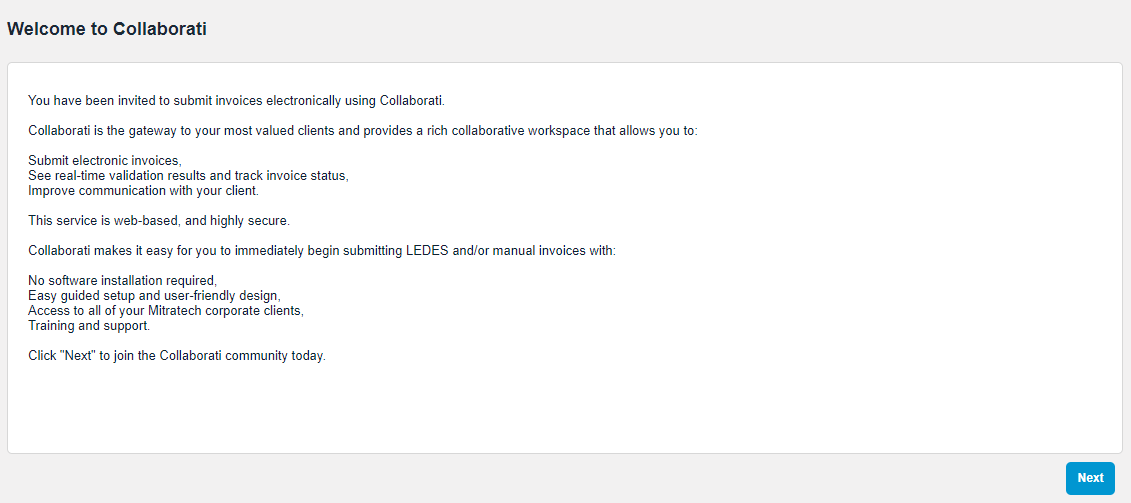 Click on the Next button to continue.
License Agreement
You will then be presented with the Collaborati End User Agreement. This must be accepted in order to be authorized to submit invoices to your client in Collaborati. Please scroll through and read the agreement.
Please note: The office must agree with the Collaborati End User Agreement terms and conditions, otherwise access to Collaborati would be denied.
This will now lead you to the Registration page. You will enter your email address, name and password in this area to setup yourself as a user.
Once the Next button is clicked, the registration will be completed.
Click on the link Login and complete account set up now.
Enter your login credentials on the Login screen.
Verify Firm & Office Profiles
You will now see your Firm's profile page, and after verifying everything is correct, check the box that says Contact Information Verified:, then click Save.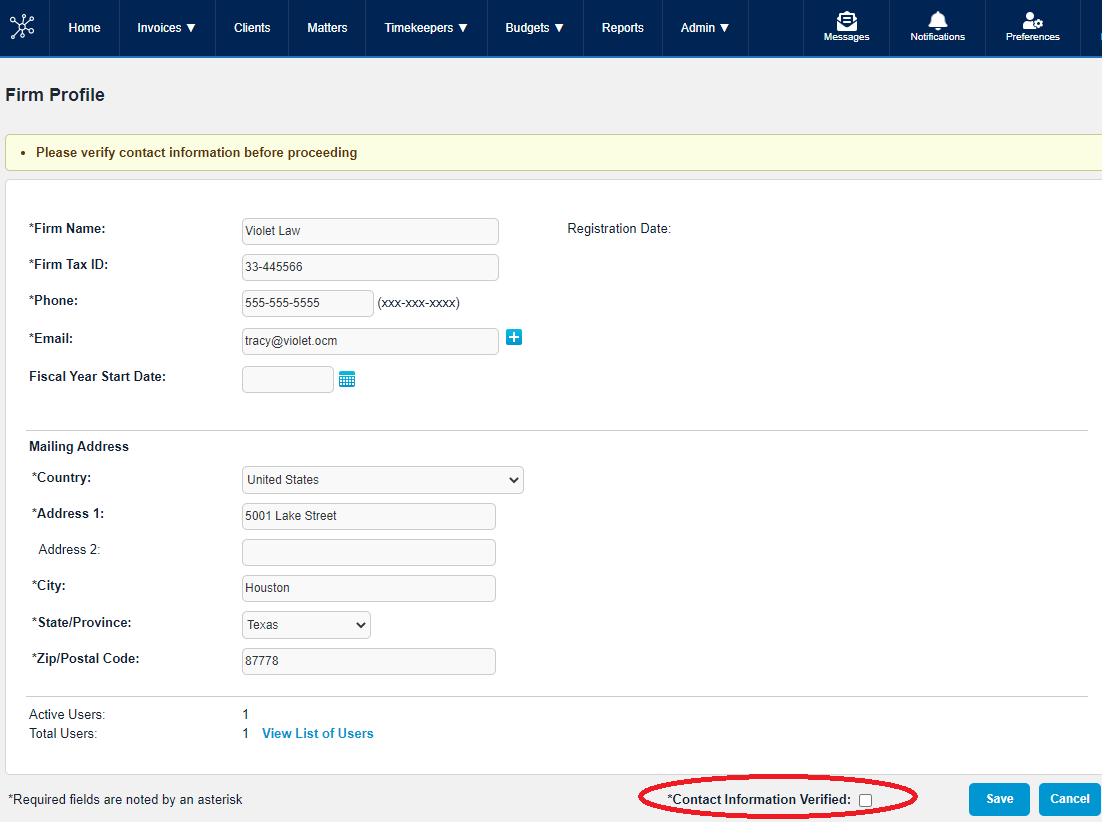 Completed Firm Profile:

After confirming your contact information, you will need to click on Home to continue the setup and setup your Office Profile.
Confirm that the information for your office profile is correct, then check the box that says Contact Information Verified:, then click Save.
Completed Office Profile:
View Account Settings
To view the Settings for your Firm, click on Admin > Settings using the drop-down menu. This will take you to the Settings for the Firm Profile.
Review the settings and make appropriate changes.
To view the Settings for Office, click on Admin > Offices using the drop-down.
Click on the Office Name
Click on the Settings icon in the left navigational bar.
Review the settings and make appropriate changes.
Client Setup
To Complete Setup for the Client:
Click Home in the top menu bar
Look for the message "Please Complete Setup for <client's name>". (The message appears once your client has authorized your account.)
Reviewing client's billing codes and guidelines
Defining Non- US Tax codes
Adding Timekeepers
Below are steps in completing client set up:
Client setup involves reviewing your client's billing codes and Non-US Tax codes, and optionally associating your firms' codes equivalents, and adding/assigning timekeepers to the client record.
Codes
If you choose to upload LEDES invoices, the application will ask you to enter an internal code for this client. This is the Client Number assigned to your client in your Time and Billing Software. Enter one or more internal client codes (separated by a comma) and click Next. The application will display client-authorized Task (Fee), Expense and Activity billing codes on the screen (if applicable). Client-authorized Non-US Tax codes will also display. If you are submitting LEDES invoices, your Time & Billing system may be using different codes. If this is the case, you can indicate your internal billing code equivalent for each applicable code, for each sub-set. By default, it is assumed that you use client codes in your invoices.
With regards to the setup, the Client ID (Internal Client Code) refers to a Client number that may be assigned by your billing software. If you don't have one, simply type the name of your client. Please leave all other codes checked for use. These are authorized by the client and should be selected for use.
Click Next.
Timekeepers
Select how you will be adding Timekeepers:
by uploading a list of timekeepers, or
by entering or assigning individual timekeepers to the client.
Your firm must have at least one timekeeper. This would be a person that provides the services to your client. The Display Code and Timekeeper ID can be the same value for a timekeeper, but no two timekeepers should share these values. If you don't already have Timekeeper IDs assigned, the best rule of thumb is to use a person's initials.
Timekeepers added manually
Choose Assign existing and/or add new timekeepers if you will enter individual timekeeper information one at a time. Only the highlighted fields are required. The Home Office is a required field and should match the office that the timekeeper is most likely to work from. After you input timekeeper data, click on the Add button.

Additional Timekeeper fields can be added (some clients may require these fields, refer to your client's billing guidelines for requirements).
Once all timekeepers have been added individually, click the Next button to get to the summary page.
Timekeepers uploaded
When choosing to Upload new timekeepers you will upload a file of many timekeepers at once using a csv file. The sample file can be downloaded directly from this page. Once the file is ready, it can also be uploaded on the same page.
When ready to upload the file, click on the Next button and the file will be uploaded into Collaborati.
When you have finished assigning or uploading your timekeepers, click Next to get to the summary page.
Summary
Verify the summary information listed on the screen. Click Finish when you are satisfied with the information stored in your client record.
Clicking on the Finish button will send you to a profile verification page.

If you click on the Clients tab, you will now see this client appear with a status of Waiting for Client Authorization. This means that your set-up is now being verified by the client. Once authorized, the client status will change to Active.
Next Steps:
Email Notifications
Optionally, you (or other Users) can sign up for email notifications.
Click on the top right link labeled Notifications. Click on the type of notifications that you would like to receive.
Choose any notifications you would like to receive and then click Save.
Note: Each user must setup their own Notifications.
You can choose to receive Matter Notifications for new matters, by checking the box.
You can choose to receive Notifications for Invoices, Budgets, Tenders and Rate Requests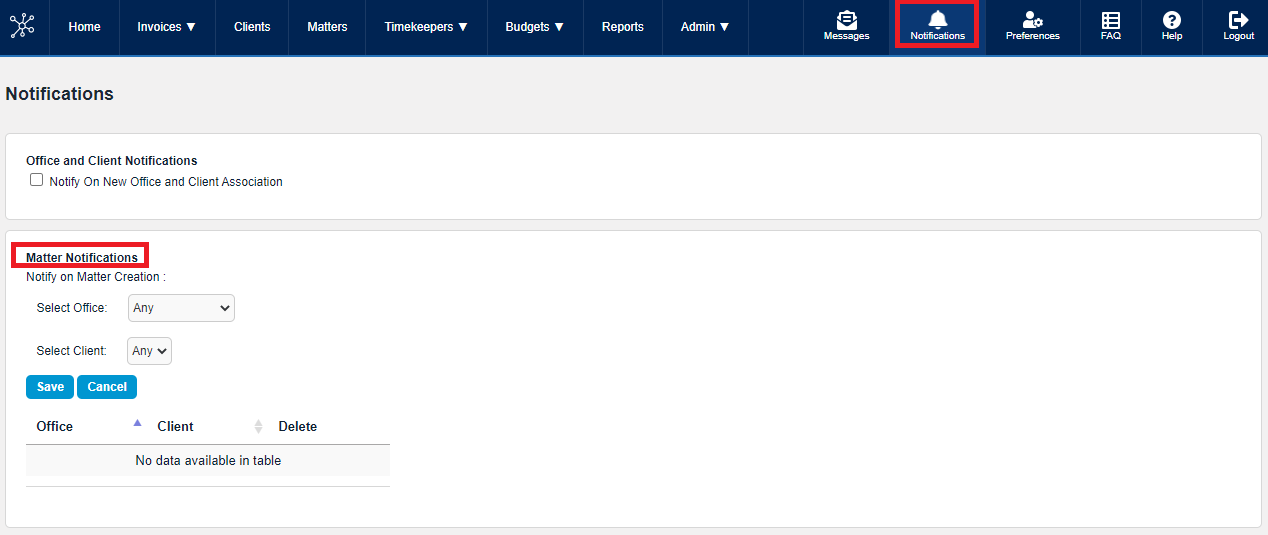 For example, checking Select All will send all the notifications for all your clients for Invoices, Budgets, Tenders and Rate Requests.
More information about notifications can be found in our help guide here.
Create Additional Users
Click on Admin > Users using the drop-down menu.
Click Add User link.
More information here.
More information about Office accounts here: