Collaborati: Tips for Firms
Last updated
Tips for firms, including how to locate the settings and where to enter Bank Account information.
COLLABORATI TIPS FOR FIRMS
Office Accounts are created by Collaborati Support. You will notice at the top of many pages that the Select Office drop down. Office accounts are used to manage firms with multiple locations. Contact Collaborati Support about merging multiple Office accounts into a Single Firm (Multi-Office Firm).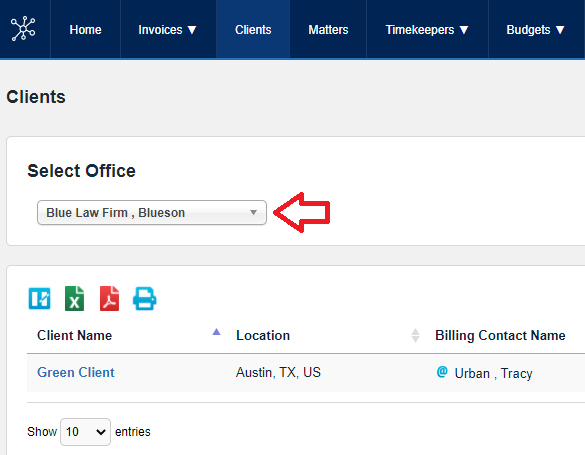 To view a page in Collaborati or create an invoice, you will need to select an "Office" if the office is not already selected.
SETTINGS FOR FIRMS
There are two places to check Settings for Firms. Additional information is stored on the Office profile.
To locate the Bank Account information or the settings, such as Billing Currency or Time Zone:
Click on Admin in the top menu bar and choose Offices
Click on the Office Name. View Office Profile here.
Bank Account Information
The Bank Account Information fields are available on this page (Account Country, Account Title, Account Number, Routing Number).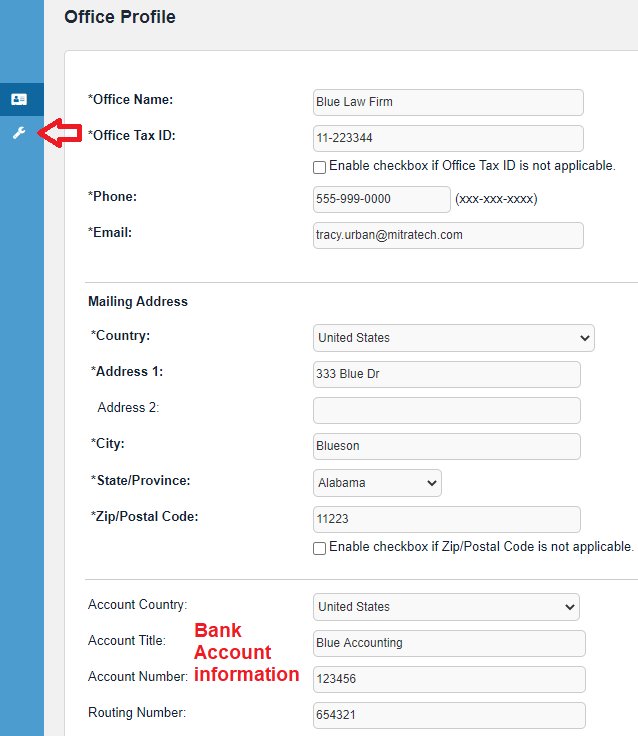 Click on the Settings icon in the left navigational bar.
Billing Currency Setting
Settings are visible on this page (Billing Currency, Time Zone).
Additional Settings for Firms, such as Invoice Options and Discounts can be found here:
Click on Admin in the top menu bar and choose Settings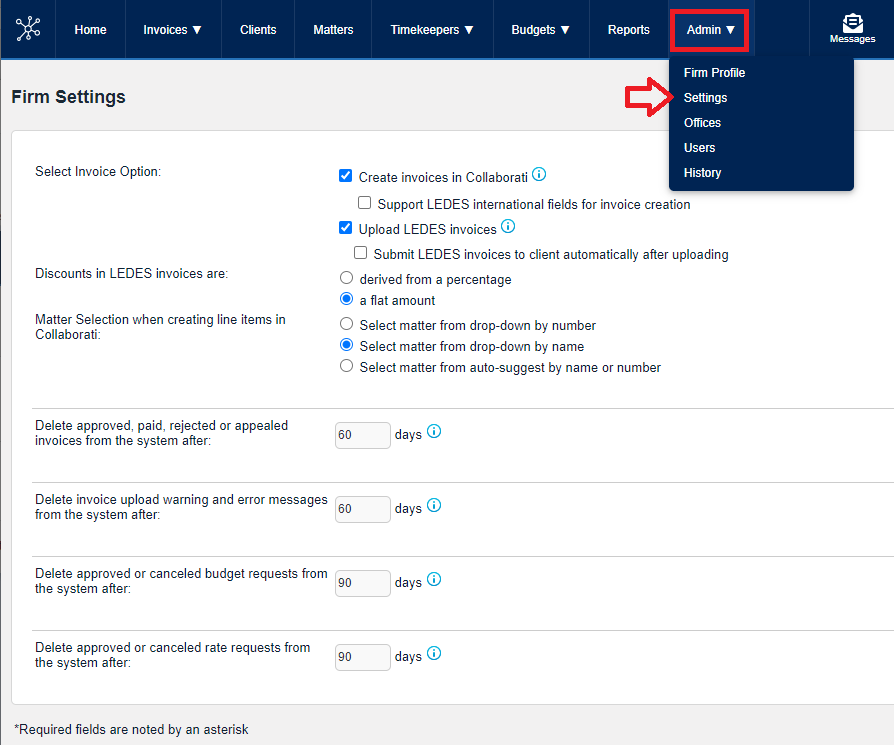 BEST PRACTICES FOR MULTI-OFFICE FIRMS
Unique Name
Each office should have a unique name. Having a unique name will avoid confusion when creating Rate Requests. A unique name can have all capital letters, punctuation or use parentheses.
Examples: "Austin Law Firm" with unique names
Austin Law Firm
AUSTIN LAW FIRM
Austin Law, Firm
Austin Law Firm (Dallas)
Order of list
Additionally, if there is a particular office that you want to appear at the top of the "Select Office" drop-down list, you can add a number or a space before the name of the Office.
Example (note the first one has a space at the beginning):
Austin Law Firm (Dallas)
1Austin Law Firm
2AUSTIN LAW FIRM
Billing Contacts
You can add up to 5 different email addresses (for billing contacts) on the Firm Profile page. Click on Admin in the Top Menu bar.
Review Users
You can disable any users that no longer need to have access by clicking on Admin in the top menu bar and then choose "Users".
Review Timekeepers
Contact Collaborati Support for assistance with merging duplicate Timekeepers across Offices.