How to Delete and Restart Workflow
Last updated
This shows how a user can delete and restart the workflow for a remote I-9.
Goal
For remote I-9s, users can delete and restart the remote workflow. This option is commonly used if you are unable to resend emails for I-9s created through an integration.
If Section 1 is complete, and you do not want to delete Section 1, please do not follow the steps below and instead choose other options, such as to retain Section 1.
Steps
Search for the employee and click on the next action to navigate to the Form I-9 tab.
Click on the I-9 menu on the Remote I-9 tab.
Select "Stop or Reject Remote Form I-9".
Select "Delete and Restart Remote Section 1 Only Workflow".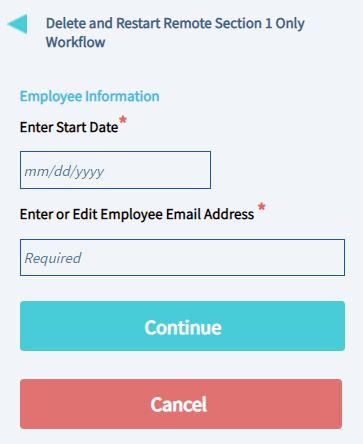 Enter in the start date and email and click Continue.
Two pop-ups will appear asking you to confirm that you want to delete the I-9. Once confirmed, a pop-up will appear stating that the Section 1 email is sent.


Notes
The steps above are for the Remote Section 1 Only workflow, but users can also delete and restart the I-9 for the Employer Appoint, Employee Appoint, and Network Alliance workflow.