Add Key Person
Last updated
To add an individual to your Key Personnel list, click Add Key Person in the Key Personnel sidebar.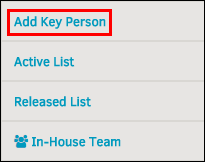 To add key personnel:
Select an individual from the drop-down list.
Note: If you do not see the individual you want to add, contact your site administrator so he or she can create a profile for the individual.
Click the red icon to turn access or notifications on (). (Access to the matter record and notifications are initially turned off ().)
Click Add Record to confirm.
The page refreshes to show your updated Key Personnel list.