Research Search
Last updated
This page details how to use the Research Search feature to search for matters.
The Research page is one of many ways to search for matters. Select Research from the Matters tab to open this page.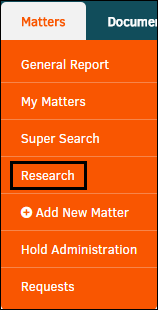 To conduct a search on the Research page:
Select from the "Type", "Keyword", "Issue/s", "Product/s", and/or "Department/s" drop-down lists to filter categories. (These are the best options to use for filtering because the database uses them to determine which matters to search.)
Use the "Opened Between", "Include Closed Records", "Assigned", and "Order By" options to filter the search criteria.
Click the List button to generate search results.
Click the matter number to view the main matter screen.