Breakdown: Categories
Last updated
To view reserves organized by category in a pie chart, select Breakdown: Categories in the Reserves tab from the Finance Navigation Bar.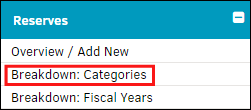 To edit a reserve:
Click the icon.
The information opens on the right.
Change the classification and/or fiscal year by selecting an option from the drop-down list.
Change the amount and/or reserve date by typing into the text boxes.
Add any comments to the appropriate text field.
Click Save Reserve Amount to keep changes, or click to cancel and exit.
Select the
icon to delete the record.