The Rapid Entry hyperlink in the Checklist section of the Matter Navigation Bar allows users to input an answer for a question without opening additional links to view the detail.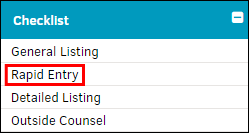 Select an answer from the drop-down list. The
icon appears to the right to indicate that the answer is saved.
You can still open question details from this page by clicking the

icon, and the information is displayed in the same manner as General Listing or Detailed.