Outstanding Approvals
Last updated
View outstanding rate card approvals for a specific fiscal year.
The Outstanding Approvals hyperlink in the Application Administration | Firms & Vendors sidebar allows site administrators and super users to view all unapproved rate cards for a firm/vendor's timekeeper, and approve multiple rate cards at a time.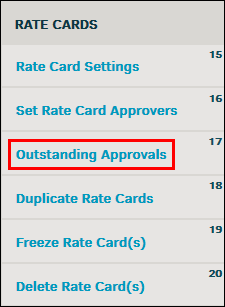 Select a fiscal year from the drop-down list.
If any rate card requests have been made for that year, a list of the firms/vendors that made the request are displayed.
Click the name of the firm/vendor to open a list of their timekeepers and amount of unapproved rates at the bottom of the page.
Click the name of the timekeeper to view a list of individual and matter-level rate cards.
Use the checkboxes to the far right to approve a rate card, and click Approve Checked at the bottom of the list.
Rate cards can be created and deleted from within a Firms & Vendors page. You can also delete rate cards from Application Administration using the Delete Rate Card(s) hyperlink.
Rate Request Resubmission for Vendors
It is possible for Collaborati vendor users to resubmit rate requests for a timekeeper/fiscal year combination to Lawtrac, regardless of the rate card's status in Lawtrac.
The Collaborati vendor user will need to submit a new rate request for the desired timekeeper and fiscal year via Collaborati, and the new rate request will need to be approved in Lawtrac. Once it's approved in Lawtrac, the rates from the new request will override the old rates.

The fiscal year on the new rate request must match the fiscal year of the rate request being replaced.
If the new rate request is rejected in Lawtrac, the old rate request will stay as-is.

In versions of Lawtrac prior to 4.2, the Collaborati vendor user may need to take the additional step of first deleting the original rate request in Collaborati, before resubmitting the new rate request from Collaborati to Lawtrac.
Rate Request Requirements and Conditions
Each Timekeeper can only submit one rate request per fiscal year.
Rate requests cannot extend into two fiscal years. For example, a timekeeper cannot submit a rate request from FY17 that extends into FY18.
When submitting rate requests, the fiscal year submitted must match the fiscal year defined in the Lawtrac application.