Summary
The photo matching step occurs automatically when you create an E-Verify case for an employee who has presented a US Passport or Passport Card, Permanent Resident Card (Form I-551), or an Employment Authorization Document (Form I-766) for his or her Form I-9 documentation.
Users will need access to E-Verify (and have completed the E-Verify training) to view the E-Verify tab.
Workflow
When photo matching is required, you must 1) acquire and retain a copy of the employee's document, and 2) fulfill the E-Verify photo matching requirement. The system displays an alert message reminding the user of this requirement in Section 2 when the employee will be subject to E-Verify.
The following screen will appear when a case that has been submitted to E-Verify requires photo matching.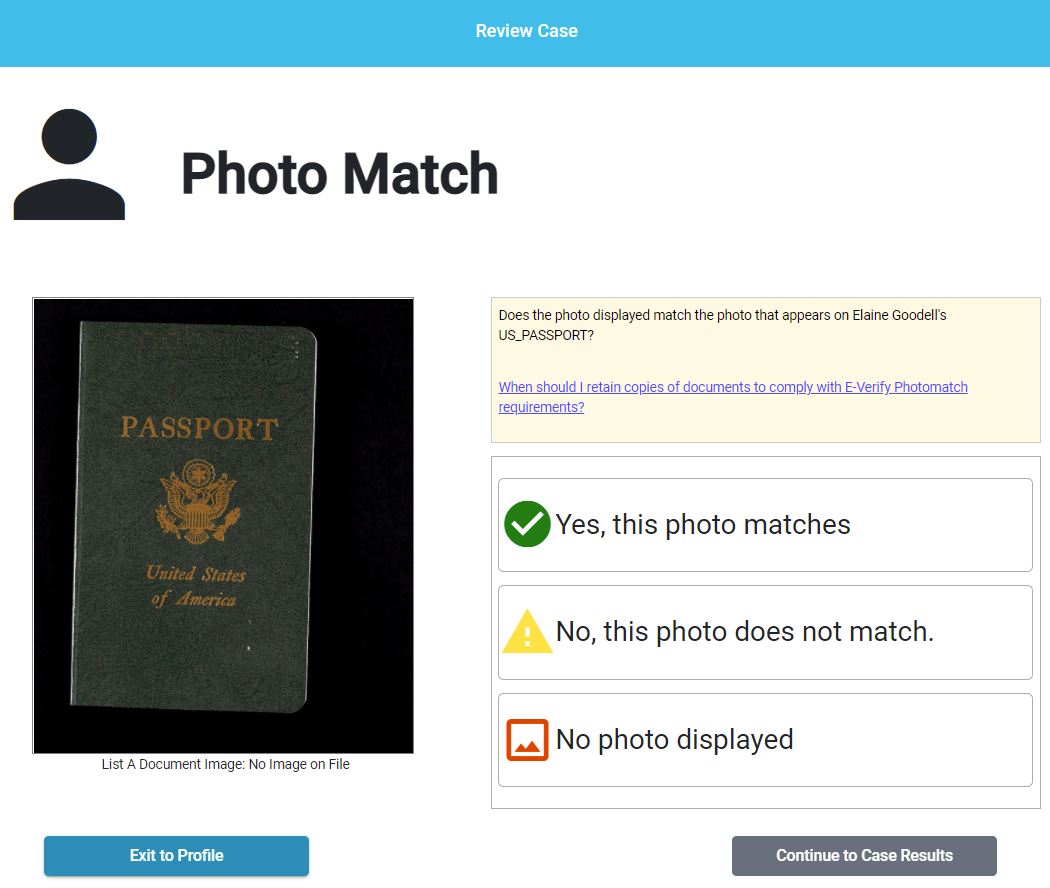 Select the appropriate option indicating whether or not the photo displayed on the page matches that of the document that was provided by the employee.
The photos should be identical, but you should take into account minor variances in shading and detail between the two photos based upon the age and wear of the employee's document, the quality of your computer monitor, and the watermark on the photo in E-Verify to protect it from unlawful use. Do not compare the photo displayed by E-Verify to the employee directly. The direct comparison between the document and the individual should happen when the Form I-9 is completed, prior to using E-Verify.
If no photo is displayed (such as in the below screenshot), you should select the "No photo displayed" option.
If you indicate "Yes, this photo matches" and click "Continue to Case Results", then employment should be authorized and the case should be closed.
If the photo displayed does not match the photo on the document provided by the employee, the "No, this photo does not match" option is selected, and the user clicks "Continue to Case Results", then the user will be prompted to upload document images if "No, this photo does not match" is selected.