Posting an Invoice
Last updated
The following posting rules are set by your System Administrator:
Invoices must be approved prior to posting.

No approvers specified means that none are required.

Invoices split across matters must be balanced with their details prior to posting.

Invoices must be fully used across matters.

Lock out changes to posted invoices.
To Post a Single Invoice:
Open the Invoices module and click the
Post button on the Base Info tab.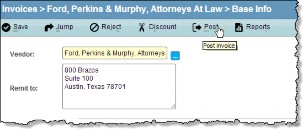 To Post Multiple Invoices:
Your System Administrator must have created a filter for approved invoices in order to perform batch posting.
Open the

Invoices module

.

On the Invoices List page, click the batch posting filter, and click the Find button.


Select the checkbox(es) of the invoices to be posted.



Click the

Post button.
When invoices are successfully posted, a confirmation message will display. Unsuccessful postings will list the reason for the failure.