Matter Default Invoice Approval
Last updated
Click the Invoice Approval hyperlink in the Legal Team sidebar to display your default approval chain for the selected matter; approvers are listed in order along with the maximum dollar amount they can approve.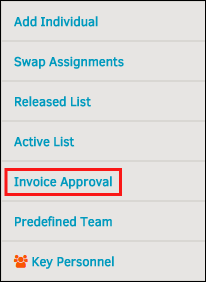 The first approver in the chain is the Lead/Primary person, who is usually the attorney responsible for the matter. In order to be on this type of invoice approvalchain, a staff member must have permission to serve as a Primary on matters.
Note: You may also have a default approval chain depending on workflow criteria established by your system administrator; these can be reset from within the individual matter or invoice.
Each member of an approval chain has a maximum dollar amount limit for approving invoices. The approvers that come after have a higher limit. If an invoicetotal is greater than the Primary's approval limit, the invoice is handed off to the next person in the approval chain. Up to five individuals can be in an approvalchain.
When a new invoice is created, it is automatically routed to the first person in the associated matter's approval chain. The approver receives an internal message with a link to the invoice. Depending on the invoice workflow that your site administrator has configured there will either be a "chain of command" to review, or any person in the approval chain can approve an invoice even if the person before them has not reviewed it. When Workflow option 1 ("Rejection of an invoice will end the approval chain") is turned on, the approval chain process ends when a single individual rejects the invoice.
If the total invoice falls within the first approver's authorization amount, the approver can approve the invoice automatically and no other approver needs to review it.
Create an Alternate Approval Chain for the Matter
Click the Set Alternate Approval Chain hyperlink (or Add More Individuals if an alternate chain is already started).
Use the drop-down list to select the first approver.
Click Set.
Repeat this process for each person you want to add to the alternate approval chain, finishing with the final approver.
Click the

icon to remove an individual from the alternate approval chain.
All invoices submitted against this matter can be reviewed and approved or rejected by members of the alternate approval chain.
Important Note: Everyone on a matter's invoice approval chain will have access to the matter's financial/invoice information.