Matters and Requests
Last updated
This page details how Key Personnel users can manage and filter through Matters and Requests to which they are assigned.
Matter Options
Clicking any option from this drop-down menu will land users on the Matters screen.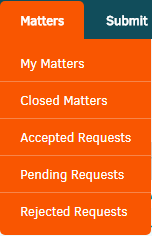 The My Matters menu option in the Matters tab takes you to a list of matter records to which you are assigned, as well as your requests. You may be associated to additional matter records that are not visible, if the Legal team has not turned on access permission.
Matter Details and Tabs
Click on a matter name to view the matter details screen.
Once in the matter details screen, users can toggle between the tabs seen on their screen to view and manage various matter details.

Requests
Click on the request number or name to view the information.
Filter through Requests by togging between the Pending, Rejected, Accepted, and All buttons.
Filter through matters by toggling between the Open, Closed, and All buttons.
Use the Date fields at the top of the screen to search for matters or requests by date ranges.