How to Handle a Hire Without an SSN
Last updated
This shows how to complete the I-9 and E-Verify when the employee does not have a SSN.
Goal
A Social Security number (SSN) is required for E-Verify. This shows how to process the Form I-9 that is subject E-Verify when an employee has yet to receive an SSN.
USCIS Guidance
Employees must provide their Social Security number on the Form I-9 if your company participates in E-Verify. If your company does not participate in E-Verify, employees are not required to enter their Social Security number.
A case cannot be created in E-Verify without an SSN. If a newly hired employee has applied for, but has not yet received his or her SSN (e.g., the employee is a newly arrived immigrant), attach an explanation to the employee's Form I-9 and set it aside. Then create a case in E-Verify using the employee's SSN as soon as it is available. If you are unable to create a case by the third business day after the employee's first day of employment, select Awaiting Social Security number when prompted by E-Verify.
Steps
Instruct the employee to complete and sign Section 1, leaving the Social Security Number field blank and click the Sign Form I-9 Electronically button. The employee will see the pop-ups regarding the SSN being required for E-Verify participating employers and asking if they already have an SSN. Note: this is not an option if the employee is a US citizen and will not present if US Citizen is selected as thier employment status.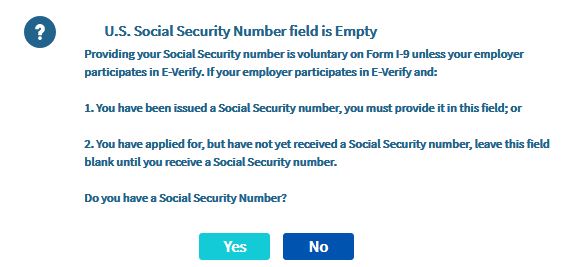 After they select Yes and then OK to confirm the system will continue to the normal prompts to confirm and sign Section 1.
I-9 Managers can then complete Section 2 as they would normally.
On the E-Verify case preview page, a notice will appear noting that the SSN is required to proceed with E-Verify. The I-9 record's next action will remain at "Complete E-Verify" for task tracking and reporting purposes.

Once the employee receives the new SSN, the employee can amend Section 1 and enter the SSN.
The I-9 manager can then go to the E-Verify case preview page, verify that the information is correctly entered, and click Continue to submit the case.
If more than three federal business days have passed since the employee's start date, the I-9 manager should select "Awaiting Social Security Number" as the reason for the delay.