TeamConnect Tasks in Outlook
Last updated
This page details how to open, update, and create tasks using the TeamConnect Outlook plugin. Additionally, this page covers how to open, filter, delete, and sync Appointments in the TC Outlook plugin.
Introduction
TeamConnect tasks displayed in Outlook include the name of the project associated with the task. To locate your tasks, go to the bottom of your Outlook window and select Tasks. Your task window will initially display your To-Do List arranged by due date. To view your tasks, click on Tasks on the left-hand side of the screen.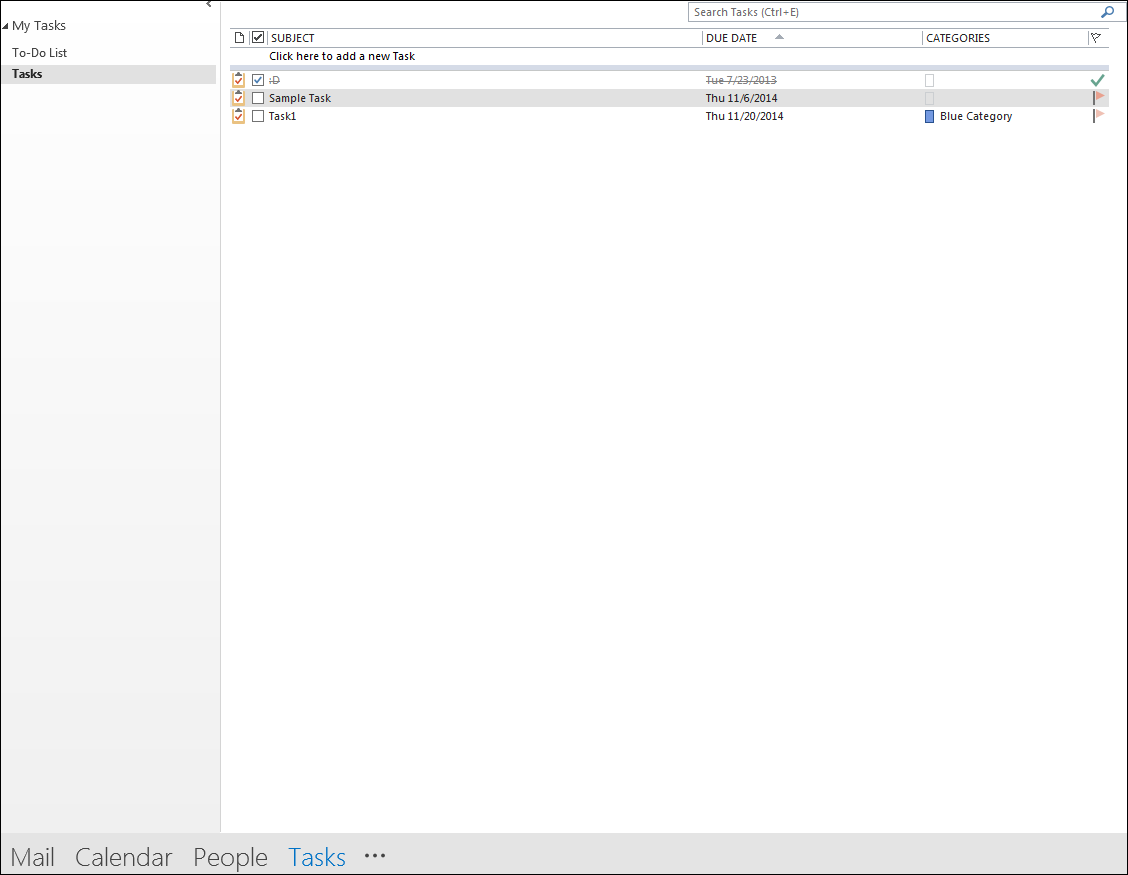 Note: This add-in works with Tasks and Appointments based on the user's primary email address. Users will need to have their emails set up properly in order to sync Tasks and Appointments to TeamConnect or do reassignments and add attendees. Additionally, email addresses per users should be unique. If they are not unique, the behavior can manifest in not being able to sync appointments.
Opening Tasks
Tasks can be opened through Outlook without logging in to the TeamConnect website. This keeps users from having to switch between applications and saves time.
To open a task, first select Tasks at the bottom of the page in Outlook. Under My Tasks, click on
Tasks. Double-click any task to open it in a new window.
Updating Information
It will be necessary, at times, to update information on a task, like changing the due date or status of the project. All changes can be done through Tasks in Outlook and the changes will automatically be sent back to TeamConnect.
Double-click on a task to open it. From the pop-up window, all data fields can be changed to reflect the updated task. Click on Save & Close.
If you have the correct user permissions, the following fields can be updated in Outlook and sent back to TeamConnect: Subject, Completed Date, Project Name, Start & End Date, % Complete, Status, Activity, and Category. You will receive an error message if your permissions don't allow you to edit these fields.
From outlook, Tasks Owners can assign tasks to other TeamConnect users.

The new Assignee will be updated in their TeamConnect site.

Ensure the new Assignee's email address is correct, otherwise the task will be assigned to the current user.
Updating Task Activities
Double-click a task to open it in a new window for updating. Click [Select Activity] and select or deselect the check-box(es) in the pop-up window.


Click on Save & Close.

Creating Tasks
Tasks can be created through Outlook without logging in to the TeamConnect website. This keeps users from having to switch between applications and saves time.
Creating a new task

The instructions below detail how to create a new calendar task in Outlook, assign it to a TeamConnect project, and send it back to TeamConnect.

In Outlook, click on New Task in the upper left-hand corner of the Home tab.
In the new pop-up window, enter a title in the Subject box and click on to enter a start date.
Click the check-box next to Reminder to set an alert date and time.
Click next to reminder time to choose a time from the drop-down box. Note: Setting a start date will auto-create a due date and reminder date (if the reminder check-box has been selected). Click on in the respective date box to adjust the date. Click to change the sound of the reminder alert.

The task will be assigned to the user who created it, unless directly assigned to another person..

Click on the in the Status bar to change Not Started to In Progress, Completed, Waiting on someone else, or Deferred. Below Status, click on next to Priority to change Normal to Low or High.

Considerations:

Subject Line: When you create a task, the subject line will automatically populate with the Matter Name. This is a Mandatory field, so if you deliberately remove the subject line the matter will not sync back to TeamConnect.
The following fields will sync back to TeamConnect:

Matter Name
Category
Activity
Subject
Task Asignee
Start & Due date
Status
Priority
% Completed

To sync the new task with the TeamConnect application:
Click next to Share with TeamConnect and choose Update in TeamConnect.
Click [Select Project] to assign the task to a dispute.
Click [Select Category] and select Internal Tasks, Other Vendor Fees, Outside Counsel Fees, or Task.
Click [Select Activity] to select a description of the type of task you are creating.
Click Save & Close.
TeamConnect Appointments in Outlook
You can sync appointments in TeamConnect into Outlook with the add-in. You simply need to go to the TeamConnect tab in the ribbon and select the Sync Calendar button.


Updating Categories
TeamConnect categories can be updated by opening the appointment from Outlook without having to log in to the TeamConnect application.
Double-click an appointment from the Calendar to make adjustments. The category title is located under dispute title, and will display any category that was selected when first created. Click the category title (Appointment). Add new categories or deselect the current category to change the visible data and press Select to confirm. Note: If more than one categories are selected, all categories will be displayed, separated by commas.
Click Save & Close.
Opening Appointments
TeamConnect appointments are displayed in the TeamConnect plug-in located on the right-hand side of Outlook Calendars. To open an appointment, double-click the blue appointment box within the calendar, or double-click the

icon in the TeamConnect plug-in pane.
Note: Appointment details can be expanded by hovering your mouse over an appointment within the Outlook calendar.
Deleting Appointments and Syncing
This page seeks to provide information on removing appointments from user calendars and how that process operates in both the plug-in as well as TeamConnect. For nearly all users, the important takeaway is that removal of users from appointments or removal of entire appointments in TeamConnect will be reflected in Outlook.
These details cover a low-level approach to the mechanisms behind appointment syncing.

Note: GSuite sync deletes tasks and appointments.