DMS Connector
Last updated
The DMS Connector tool provides the mechanism for setting up a new DMS, managing and designating your default DMS, and adjusting the field mapping between your TeamConnect instance and document management system. The image below details the available fields within a typical Integration Manager screen.
Note: These fields are based on a Sharepoint integration and may not represent all DMS Integrations.
As administrators are able to customize their DMS integration (as per a properties file), these fields may be renamed or have different mappings depending on your system. For more information on this process, please see Setting Up a New DMS.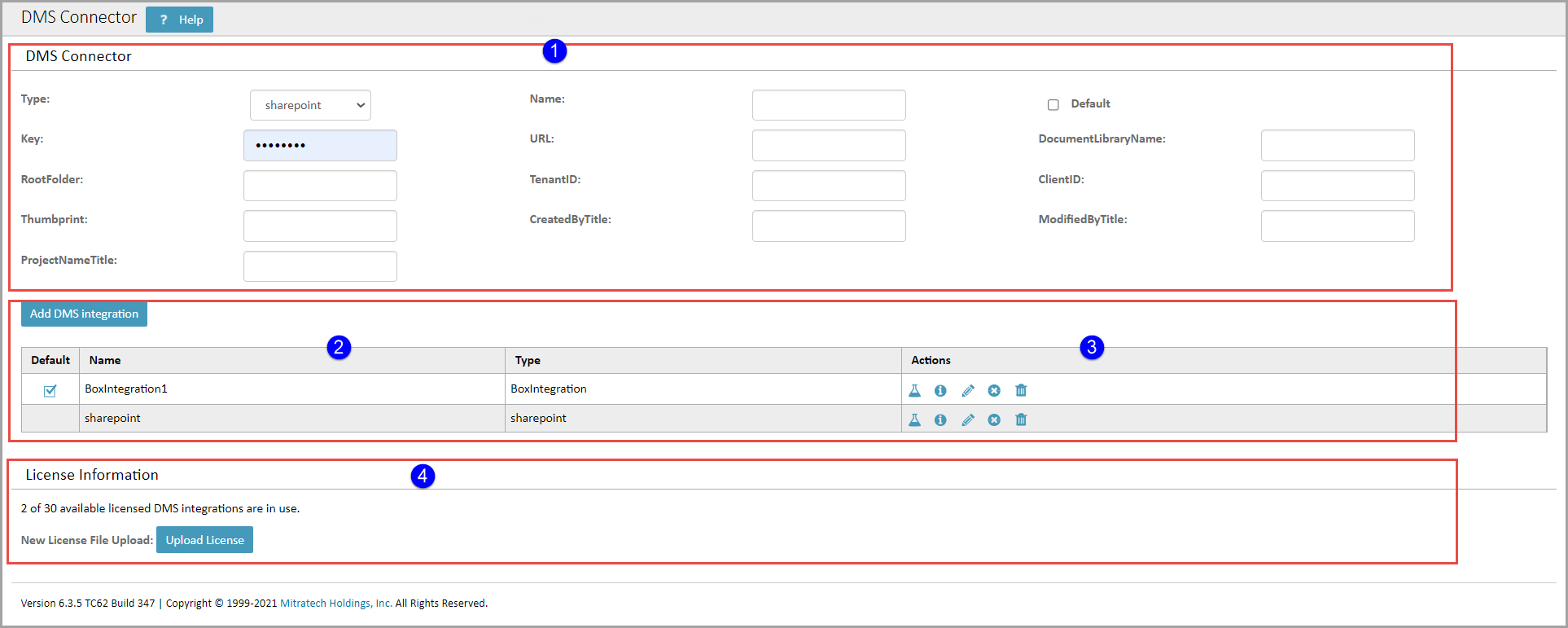 | | | |
| --- | --- | --- |
| Page Section | Section Description | |
| 1 | Adding a DMS/DMS Fields | This section contains the fields for linking a new DMS Connection or viewing a current DMS in edit mode. These fields are determined by the respective properties file for the integration. For custom DMS integrations, users will need to create their own properties file and upload to the Top Level > System > Integrations section prior to adding the integration on this page. |
| 2 | DMS List | This section displays the currently connected DMSes, their type, and the default DMS (indicated by the checkbox). Default DMSes are indicated by clicking the Default box in the upper-right corner. To make an existing DMS the default, first click the Edit icon in the Actions column and click the Default box at that point. |
| 3 | Actions Column | These icons function to (in order of left to right): Test DMS Connections; Delete a DMS; Enable/Disable a DMS; Edit a DMS; View DMS information. Note: The default DMS cannot be deleted. |
| 4 | License Information | This section shows the number of available and currently used DMS licenses. For more licenses or information on DMS licensing, please contact Mitratech support. |