Attachments and Instructions (Stage Level)
Last updated
This tutorial will teach the end user how to leverage the stage attachments and instructions and will guide the user as to how to set up this feature within the Design tool.
What are Attachments and Instructions?
Attachments and Instructions is a stage level property that allows the end user to access attachments or instructions when filling out his or her webform. For example, if an end user is expected to fill out a form regarding a new policy and it would be useful for the end user to refer to that policy, then one might design the webform such that the end user could refer to an attachment about the policy while filling it out. Attachments would do just the trick.
How do I configure Attachments and Instructions?
Attachments and instructions are a stage level property, which means that you access them in Business Automatoin > Designer > Workflow > Property > Stages.

After selecting Attachments a dialog box will appear. Here, you can configure the document you would like to make available to your end user.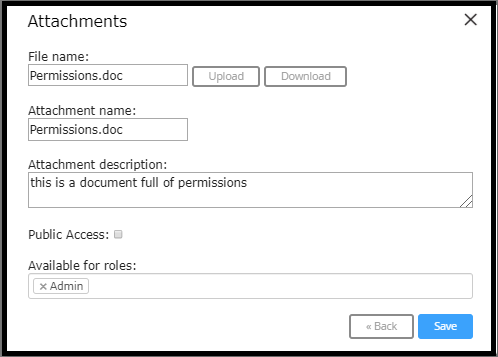 1. First, Upload the relevant file from your computer. This is the file that will be attached at the webform for your end user.
2.. Make sure to fill in the Attachment description with relevant copy.
3. If you would like the attachment to be available to any role or any person who encounters the end-user webform, select Public Access.

If, however, there are particular roles that ought to see the attachment while all other end-users should not be able to see the attachment, identify which roles should be able to access it with the Available roles category.
4. Save your attachment.
Instructions
Instructions appear to the end user in the same locatoin as attachments, but instead of attaching a helpful document this is where the end user can receive a few sentences of instruction.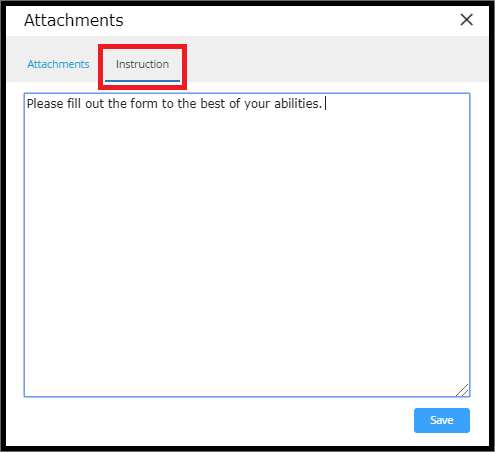 1. After Selecting Instructions, key in the instructions for your end user. Then, save.
NOTE: Some customers prefer to leave instructions in pop-up text, rather in the side panel where these Instructions appear. To configure pop-up instructions, use Custom HTML fields.