Time Recorded
Last updated
The Time Sheet: Time Recorded link in the Time tab provides a listing of all time you have reported on various issues. You can also edit and delete entries as needed.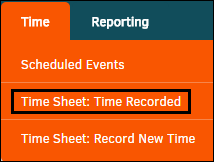 Past reports are visible here and may be edited by clicking the
icon.

You can change the Date, Total Time, Matter, and Comments of previous entries with this feature.
Click Save to confirm changes,
to cancel or close, and
to delete the time record.
Record New Time
Additional Time Record Options:
| Page | Function |
| --- | --- |
| Recently Recorded | View all time recently recorded. |
| Division/Department Breakdown | View overall time entered by division/department. |
| Matter Breakdown | View overall time entered by matter. |
| Month/Year Totals | View the overall time entered by month. |