Upcoming Events
Last updated
Understand and change the view of the matter events calendar on your Lawtrac home screen.
A weekly calendar appears on the homepage with the current day highlighted in orange. Events associated with matters include a link to the matter record in the calendar view. Click the event (highlighted in blue text) to open the matter.
Navigate to past or future weeks using the arrow buttons on the left and right sides of the week view. Click the To Current Week button to return to the current week.
Past Events Announcements
To search only for past events, click Search Past Announcements. Enter search criteria into the "Search For" text box, then click Find.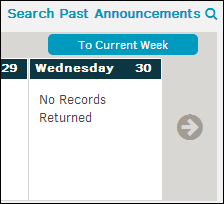 Events: 30-day View
View a list of events for the next 30 days on the top right side of the screen.
Events are separated by matter, department, or personal events. Click on each bar to expand the events.
Expand matter events by clicking See More to see a list of matter events in the next 30 days. Click an event to open the matter.