Collaborati Scheduled Sync
Last updated
This page details how to set up and perform a Collaborati scheduled sync.
The Collaborati Synchronization scheduled task synchronizes the Lawtrac application and the Collaborati application so that outside counsel can submit invoices and rate requests.

New Collaborati clients will need to manually configure their scheduled task URL. This step is usually done by Mitratech Support, but it is outlined below to provide you with a better understanding of the setup process.

In the Scheduled Tasks page, click Add New Scheduled Task.

Add a New Scheduled Task, by providing a name, start and end date, time, interval and set the URL to: 'http://localhost:8500/YourLawtracVer...boratiSync.cfm' or the current URL provided with your release.

If the task has already been created for you, you can modify the Run Interval which allows you to set the interval of information transfer requests between your Lawtrac application and Collaborati. Click the existing Task Name and enter the new run interval. Options range from hourly to daily, weekly, monthly, to just a one-time run. The recommended interval for production is every 12 hours or once a day. This will ensure that any changes to a vendor's profile, rate card, invoice, etc. in Lawtrac will be synced to Collaborati more frequently and your vendors will view the most accurate and up-to-date information.

For existing Collaborati clients, Scheduled task URL must be manually updated to the URL provided with your release version.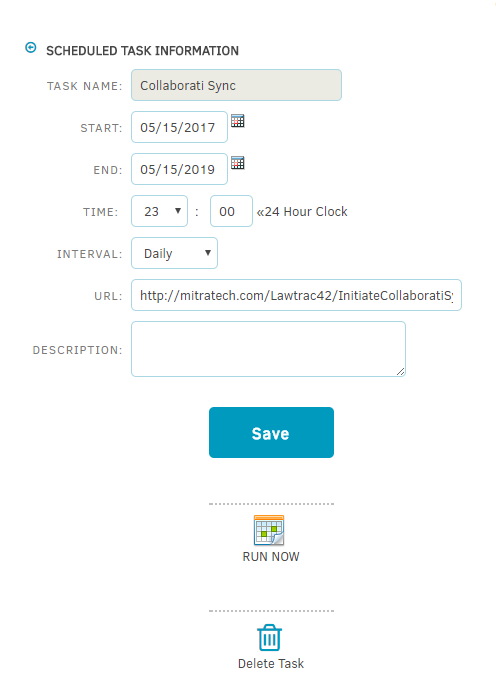 Click on the Save button and test the Collaborati Sync by clicking on the Run Now button. Once the first synchronization runs, the Collaborati Sync Log in the Synchronization Settings section displays the date and time of the last successfully completed synchronization.