Product: Review-Modify
Last updated
Add or modify categories with export codes on the product level.
The Product: Review/Modify hyperlink in the Matter Maintenance sidebar allows site administrators to add or modify categories with export codes on the product level. Product category names are used when creating new matter records.
If your categories have multiple levels, use the numbered buttons at the top of the screen to "jump" to that specific level.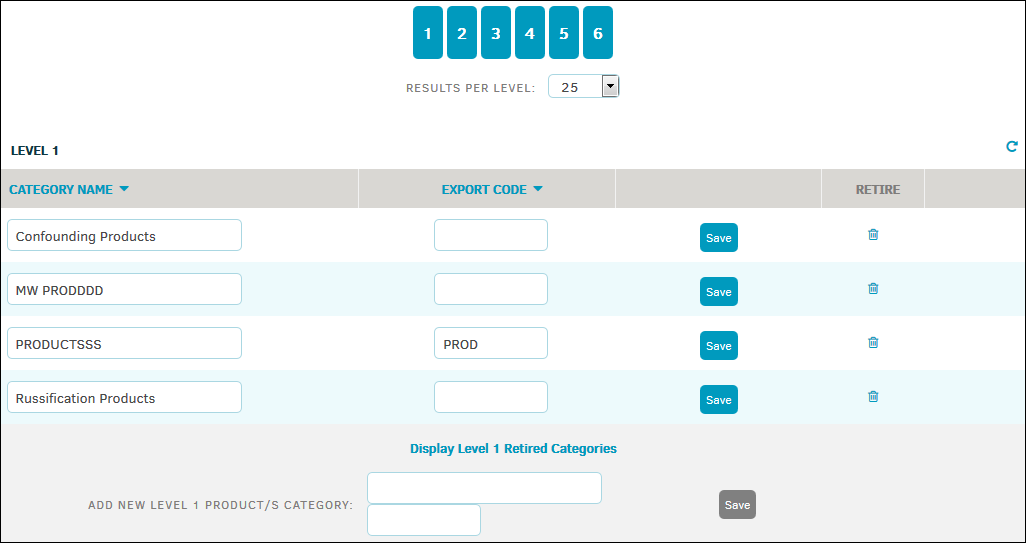 Under Category Name and Export Code, you can take the following actions:
Change the category name by typing directly into the text boxes, then click Save. The export code category is optional and is used when Lawtrac interfaces with other applications or passes data to and from other services.
Delete the category name and export code by clicking the icon. Important Note: If the product is in use by Approval Chain or Invoice Handlers, you will not be able to retire or delete the product.
View a category's subcategories by clicking the icon. For unlinked levels, there is no drill down , but you have an option to create a new one.
Add New Product Category
Type a name and code into the corresponding text boxes under Add New.
Click Save.
Retired Product Categories
View retired categories by clicking Display Retired Categories at the bottom, and click Activate to reinstate the category and export code.