LEDES Format Validator tool
Last updated
LEDES Format Validator Tool
In Collaborati, the LEDES Format Validator tool assists with format errors for LEDES XML 2.0 or LEDES XML 2.1.
To view the errors for a received file for one of these files types, the LEDES Format Validator tool is used to view the list of errors in the below preview panel that are in-line with the file.
Validating the issues
To validate the formatting issues, the user is provided to access the LEDES Format Validator tool from the INVOICES menu in Collaborati.
Go to Menu >> Invoices >> LEDES Format Validator.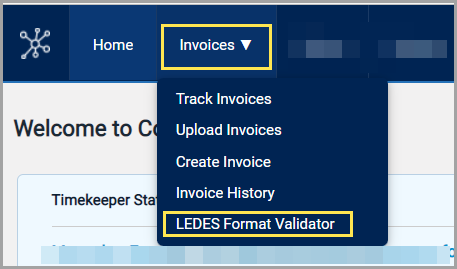 LEDES Format Validator page opens.
Select the xml file from the source folder.

Select the file type: LEDES XML v2 or LEDES XML v2.1.

Click "Upload file".

The File Preview, displays which part of the file has errors.
The following lines have errors: Displays the line numbers having errors.

Review below for more details.
Note: Errors are marked in Red color.
Warning is marked in Yellow color.
Ensure the file has no errors, upload the file Invoices > Upload Invoices page to upload your file.
What are the benefits of this new tool?
When you use this feature, you can see more than one format error at a time.
When to use this feature?
This feature works with files formatted in LEDES XML 2.1 or LEDES XML 2.0 .
Use this tool if you receive a format error when uploading your file on the Upload Invoices page.
It cannot be used with LEDES2000.