Outstanding Approvals & Rate Requests
Last updated
The Outstanding Approvals hyperlink in the Application Administration | Firms & Vendors sidebar allows site administrators and super users to view all unapproved rate cards for a firm/vendor's timekeeper, and approve multiple rate cards at a time.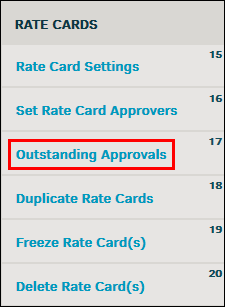 Select a fiscal year from the drop-down list.
If any rate card requests have been made for that year, a list of the firms/vendors that made the request are displayed.
Click the name of the firm/vendor to open a list of their timekeepers and amount of unapproved rates at the bottom of the page.
Click the name of the timekeeper to view a list of individual and matter-level rate cards.
Use the checkboxes to the far right to approve a rate card, and click Approve Checked at the bottom of the list.
Rate cards can be created and deleted from within a Firms & Vendors page. You can also delete rate cards from Application Administration using the Delete Rate Card(s) hyperlink.
Receiving and Approving Rate Requests from Collaborati
How do I approve Rate Requests in Collaborati from Lawtrac?
Each Timekeeper can only have one rate request per fiscal year.
Rate requests cannot extend into two fiscal years. For example, a timekeeper cannot submit a rate request from FY17 that extends into FY18.
When submitting rate requests, the fiscal year submitted must match the fiscal year defined in the Lawtrac application.