Budgets by Fiscal Year Report
Last updated
From the Reporting tab, select Budgets by Fiscal Year Report to view a list of all budgets created in a specific fiscal year.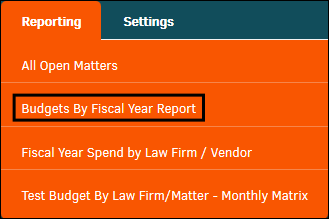 Select a year from the Fiscal Year drop-down list, then click Run Report.
Reports will be listed by budget number, matter number, firm, type of budget, frequency, and amount.
Click on firm name to view all budgets submitted by that firm.
Click on matter number to view all budgets associated with that matter record.