How to Add a Client Admin to an Email Alert
Last updated
This shows how a client admin can add a user to an email alert.
Goal
In addition to the I-9 manager, the employee, or all the users by their security role, a client admin user can be added to receive email alert notifications.
Steps
Click on an email alert.
Use the dropdown to select the client admin user that you would like to add to the email alert.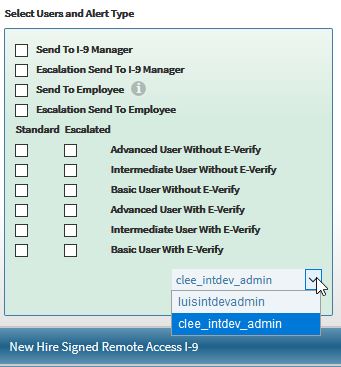 Click (+) Add Another User.
The client admin user will appear on the list, and you may check the standard and escalated checkboxes to determine what email alerts this user should receive.
Notes
If there is a list of users who should receive email alerts but do not necessarily need client admin accounts, you may create a group email within your organization, use that email to create a client admin user, and add that user to the email alerts they should receive.
If you add a client admin user, but do not check the standard or escalated checkbox when you save, the client admin user will be removed the next time the page is refreshed. You may add the user again if needed.