After this tutorial, users will learn how these simple tools give extra flexibility in stage permissions. Triggers help in situations where we only want certain users to be able to perform certain actions on a workflow.
What is a trigger?
Triggers are relationship properties that allow you to adjust certain permissions. When one employs triggers, he or she is able to update which roles are able to terminate workflows. For example, it might be the case that only Senior Managers are allowed to terminate your HR Onboarding workflow. However, if the workflow passes through a "triggered" relationship, the permissions can be temporarily changed for that workflow instance and allow another role to terminate the workflow as well.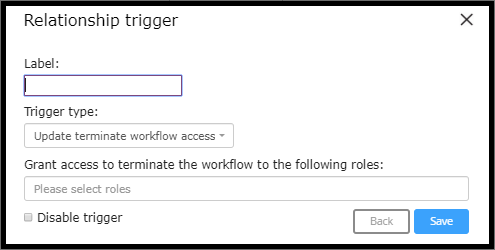 How Do I Set Up a Trigger?
To set up a trigger:
1. Select the relationship at which point you would like to update the "terminate workflow" permission.
2. Select the
triggers icon.
3. When you do so, a dialog box will appear.
4. Type in a name for the Label. This will be the name of your trigger.
5. Select the Trigger Type drop down to "Update terminate workflow access."
6. Identify which roles will be effected by the trigger. The available roles will depend upon the roles that have been previously set up in the Administration section of TAP. These roles are different from your workflow-level roles.
7. Click "Save."
How Do I Disable a Trigger?
1. Check the box for "Disable trigger."
2. Click Save.