Thank-You Pages
Last updated
Learn how to customize your form's thank you page
What is a Thank You Page?
Each time a TAP form is submitted, a popup displays to thank the user. You can customize this page! This popup is called a Thank You page, and you can change it's look and feel at the relationship level.
You can create a simple page to say "Thank you for your form submission," or one that is very specific in its gratitude for providing specific information.
To set up a Thank You page:
Thank you pages can be set up in two ways:
A. In the workflow designer on relationships
Select the relationship that follows the webform.
Click the Thank you page button in the Workflow Page toolbar.

The Thank You Page Editor displays.


Use the Editor to design and format the text and images you wish to display in the Thank You page popup.

Use the Form result value button on the Thank You Page Editor to include "dynamic" information (taken from the previously submitted webform) in the Thank You page.

Click the Save button to save your changes and return to the workflow.
B. Alternately you can set the Standard Thank-You page for all relationships in the form designer
1. On the form editor go to thank you page from the drop-down menu.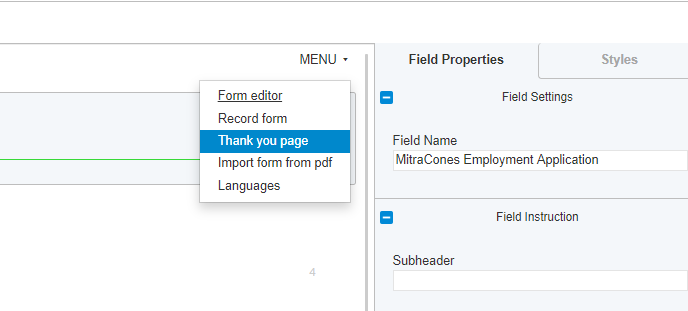 2. Set thank you message for all relationships.
note: relationship thank-you pages will override generic thank you pages