Adding a Data Source
During installation, if you are connecting to a SQL Server and the system DSN does not appear in the list on the Configure CMS Repository Database – SQL Server (ODBC), you will need to add the data source.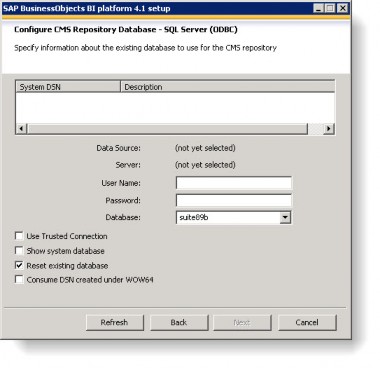 To Add a Data Source:
To add a data source, open

Data Sources (ODBC)

in Administrative Tools.




Click the

System DSN

tab and click the

Add

button.




Select the appropriate driver and click

Finish

.




Type the name, description, and the SQL Server in the appropriate fields and click

Next

.




Select the type of authentication (Windows NT or SQL Server) and then click the

Client Configuration button.

If you are not using the default database ports on the SQL Server, deselect the Dynamically determine port checkbox and specify the port in the Edit Network Library Configuration dialog box.

On the

Create a New DataSource to SQL Server

screen, select the

Change the default database to: checkbox and enter the name of the database you entered in step 4. Click Next.


Click

Finish

.




Click the

Test Data Source…

button to verify the connection.




Click

OK

to close the dialog box.




Click

OK

on the

ODBC Microsoft SQL Server Setup

dialog box to close.

The data source now appears in the grid of the

ODBC Data Source Administrator

dialog box. Click

OK

.