Manage Incident Data
Last updated
Select the Manage tab and then select Incident Data to open the System Management page. This page lists the tasks that are available to those personnel. Select the Manage tab and then click Incident Data.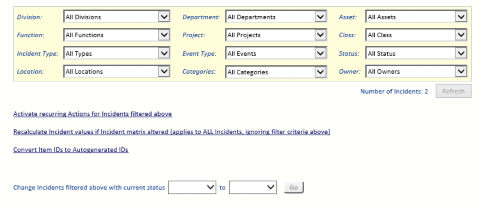 The fields at the top of the page allow you to filter the Incidents. The System Administrator can then select one of the options below, which will affect only the filtered Incidents (with the exception of Recalculate incident values if incident matrix altered).
Activate recurring actions for Incidents filtered above

– The System Administrator manages activation of recurring actions. We suggest this is run monthly for all areas.

Recalculate incident values if incident matrix altered (applies to ALL incidents, ignoring filter criteria above) – Updates the Incident matrices for all Incidents (regardless of the filter selected) for the new Incident Matrix options selected on the Change Incident Matrix page (

see "Incident Matrix Options" on page 5

).
Convert Item IDs to Autogenerated IDs – when the Autogenerate Codes option (on the System tab, select the System Settings option and then select the General tab) is changed from cleared to selected, click this option to change the manually created IDs to automatically generated IDs. The IDs are generated according to the values configured for Set Incident IDs to start numbering from and Set Action IDs to start numbering from which are found on the System Settings tab, on the Setup page. (

See "Setup Tab" on page 31

for more information on these two options.) However, if an Incident was created with an Automatically generated ID which was later manually changed, this option renumbers with Incident with the original ID.
| | |
| --- | --- |
| | Note: If the Job Scheduler is installed and running, Activate recurring actions for incidents filtered above will be run daily. |