Add Silent Custodians to a Hold
Last updated
This article details how to add silent custodians to a hold.
What are Silent Custodians?
Silent Custodians are actual hold recipients (also known as custodians) that never receive notifications about the hold notice. For example, a company might add silent custodians to an internal investigation so the people being investigated are tied to the hold without ever knowing. Silent custodians are essentially added to a hold for tracking purposes.
Hold administrators cannot add silent custodians to a hold by default — this is a global setting that must be enabled in your system settings.
How Does the Silent Custodians Feature Work?
When adding silent custodians to a hold:
If a silent custodian is attached to a hold and the hold is sent, you can change the silent custodian to an active custodian by removing the silent custodian flag, editing the notice and sending it out
If a hold is sent without silent custodians, you can change one of those custodians to a silent custodian. When that is done, the hold is removed from that custodians portal and they are designated as silent custodians on the active holds progress bar.
If a silent custodian is designated at the person level, you cannot change the person to an active recipient for a hold.
Since these recipients never receive a notification, they will be listed in a separate category.
For the Non-respondents by Hold report, silent custodians do not appear under the Recipients without responses category since silent custodians do not respond to a hold notice.
For the Hold Summary report, a new column has been added to the report to return the count of silent recipients, if any, on a hold.
If a silent custodian is added to a hold, the hold will not appear on their custodian portal. However, since this is a hold-by-hold setting, they will still have access to other holds that they are not listed as a silent custodian.
Add Silent Custodians to a Hold
Follow steps 1-3 in the create hold process. For Step 4, follow the instructions below to add silent custodians:
On the Add Recipients step, add recipients to the hold, then enable the Silent Custodian toggle for any recipients who should be categorized as "silent custodians". If you do not see these options, contact your system administrator and ensure they have enabled this setting.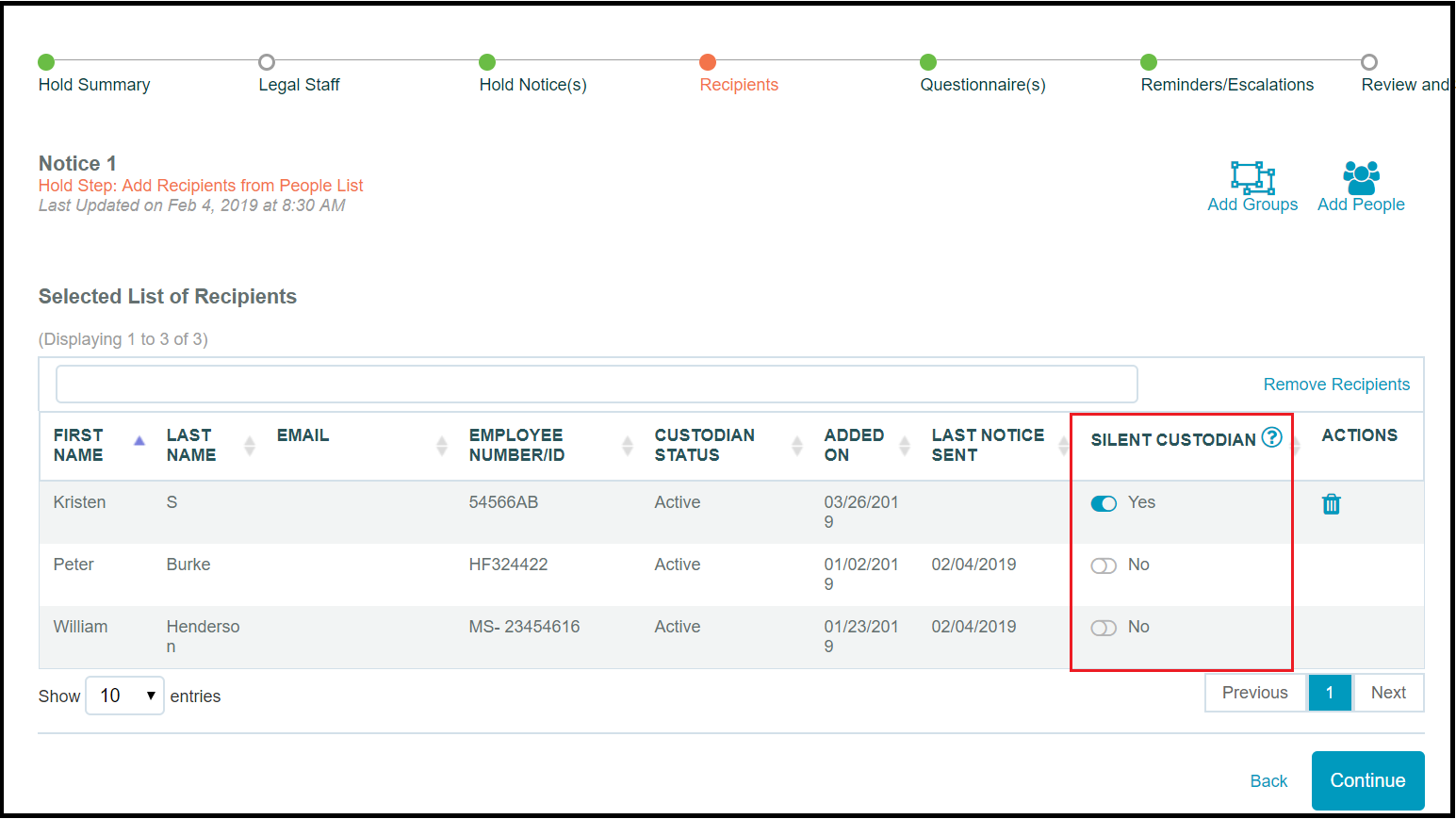 Notice the recipients Peter Burke and William Henderson cannot be switched to silent custodians because this hold has already been sent to them.