Respond to a Preservation Notice
Last updated
This topic details the steps a data steward takes once a preservation notice has been received.
When you have been selected as a data steward of a legal hold, the application will send you an email with information concerning the preservation notice for the legal hold and a link to use to respond to the preservation notice. A list of all custodians who have indicated they have electronic data concerning the matter will appear at the bottom of the email. Responding "Yes" indicates that you have read the preservation notice and accept the responsibility of a data steward.
Access the LegalHold Portal
From the legal hold email sent to you from the application, select the Respond to preservation notice link to access the LegalHold portal.

On the LegalHold portal,
if you have an account, type the password and select Login.
if you do not have an account, register by typing the password you want to use for the account (your email address is the user).
Select .Create Account
Respond to a Preservation Notice
From the link in the preservation notice email, Legalhold will open automatically to the response page for the preservation notice.
Select a response as to whether or not you can comply with the responsibilities of a data steward for the hold.
Select Submit.
The My Active Holds tab on the My Holds component will list the response given for the preservation notice.

Where to Find a List of Preservation Notices
On the Legal Hold portal, select the My Holds component. If you have not responded to a preservation notices you can do so by clicking on the Not Yet Responded link for any active hold of type "Preservation Notice".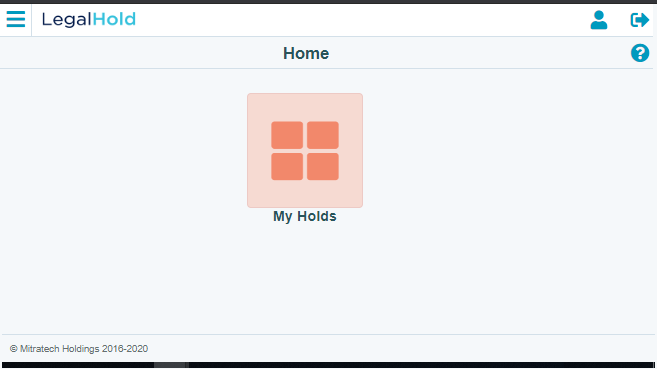 Note: On the LegalHold portal, if you have multiple roles for a hold (such as data custodian and data steward), preservation and hold notices will be listed on the My Active Holds page in the same grid. Because hold notices and preservation notices information is saved in different database tables, the Action icon may not appear for all records, the size of the page may not adhere to the size selected, and sorting on the results may yield inconsistent results.