Key Personnel
Last updated
View members of key personnel based on location or position title.
Key Personnel are employees of your company who are not in the Legal department but whom you may want to associate with matters. If necessary, an administrator can grant a key person direct access to the Lawtrac application so he or she can see special screens and access matters to which the user has permission. To remove any or all permissions from a key personnel member, see Removing Key Personnel.
Key personnel may be looked up using the alphabet filter on the right of the screen (by first initial of their surname).
To find a key personnel member, you can filter through the list in the following ways:
Use the alphabet filter at the top of the screen to search by the first letter of the last name. Only letters matching a user's surname appear.
From the Location drop-down list, select a key person location and click List.
From the Predefined Team drop-down list, select a key person and click List.
From the Position Titles drop-down list, select a key personnel title and click List.
From the Search First/Last Name text field, enter a name and click Find. There is no minimum character amount for this field.
Click the Released List link to display a list of key personnel that are no longer active. To return to a list of all active key personnel, click Refresh List under the alphabet filter.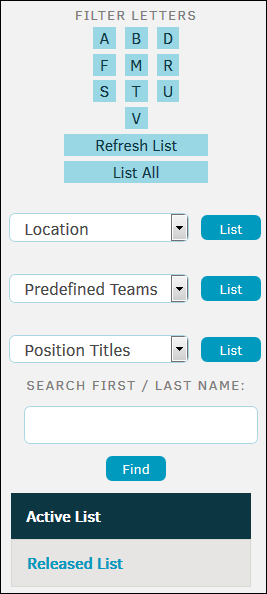 —View key personnel Profile: The Profile or Records page will display additional contact information, comments entered by the site administrator, and a list of open matter associations. Use this link to obtain their mailing address or fax number.
—Send the key person an email.
Click a Key Personnel name to open up that individual's record.
Use the sidebar navigation to edit records and view details on transactions, matters, requests, and holds.
Options:
| Page | Function |
| --- | --- |
| Open Matters | View a list of open matter records and set reminders. |
| Closed Matters | View a list of closed matter records to which the individual is associated. |
| Contract Reminders | View and set contract reminders for matter records. |
| Access to Records | View matters with access granted, or remove access to matter records. |
| Requests | View a list of requests. |
| Transactions | View transactions by date and time. |
| Site Access | Change the user's sign-in credentials. |
| | Make changes to details or Lawtrac access. |