Matter Records
Last updated
Click the Matter Records hyperlink in the Insurance Management sidebar to display a list of matter records with insurance policy coverage.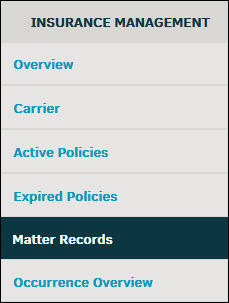 Along with the matter number and name, this list includes the policy for each matter in the Policy Occurrence column.
If a policy is assigned to multiple matter records, the number next to the policy specifies the order number of the matter record for that policy (ex: Self Insurance Policy 2012 [ 2 ]).
Click the matter number to navigate to that matter record's detail page.