Document Management for Key Personnel
Last updated
This page details how Key Personnel users can upload and manage documents within assigned matters.
Lawtrac allows key documents to be uploaded to matters so they can be shared with corporate staff and outside counsel (if desired). Key Personnel can manage matter documents from their home screen and Matters screen under the My Documents section, or in the Document Management tab within matters. This page details how to manage, search, and add new documents.
Files that were attached to the initial request to an in-house user will be available if the request becomes a matter. If requests become matters, KP users will be able to use the quick find feature to locate those respective documents. Key Personnel users can access, view, edit, and search matter documents that they upload to the Self-Service Portal Request and any matters created from requests. This can all be done without needing to be granted permission by a Legal Department user.
To open a matter document, click the document name. The file should automatically download.
To Upload a New Document:
Navigate to a matter and click the Document Management tab. The grey area of the screen will appear blank until the KP user clicks Add A Document.
Next, users will Choose a File then click Upload.
The following file types are accepted in the Lawtrac system: doc, docx, xls, xlsx, txt, ppt, pptx, pdf, gif, htm, html, csv, msg, wav, jpg, tif, pic.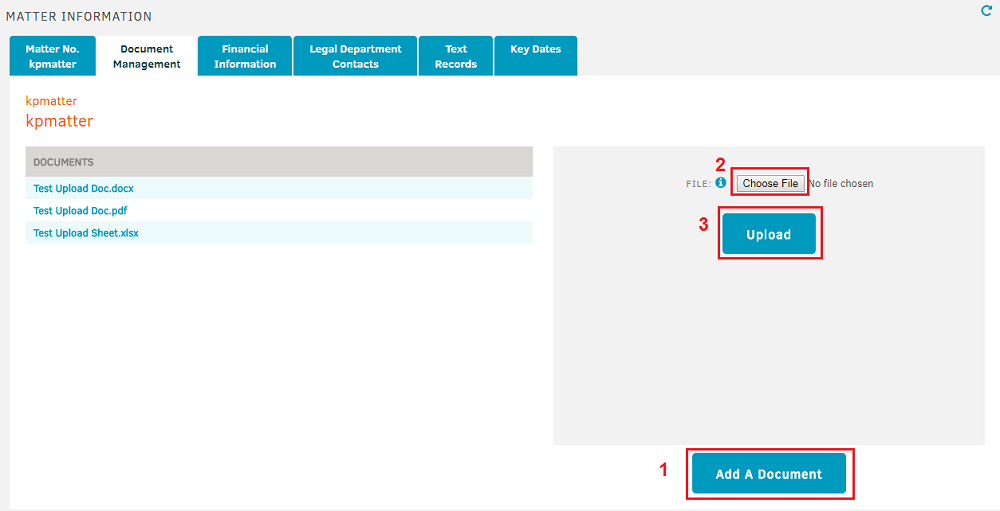 | | |
| --- | --- |
| If the document was successfully uploaded, KP users can click the Click here to continue link seen in the success message. | If the document upload was unsuccessful, users will see an error message appear within the grey box. |