Notifications
Last updated
Create a schedule for which key dates from matter records will be sent via email to individuals as a reminder.
The Notifications hyperlink in the Misc. Settings sidebar allows site administrators and super users to manage notifications.
—Notification system enabled ("on")
—Notification system disabled ("off")
In the top section of the screen, edit the notification schedule by taking the following steps:
Click the colored indicator to turn the notification system on or off.
Type the number of days to look back in the first text box.
Type the number of upcoming notification days in the second text box.
Choose a repeat cycle from the drop-down menu.
Click the icon to choose a date for the next notification.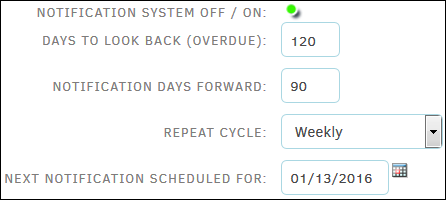 The opening/closing paragraph sections in the middle of the page allow administrators to include instructions to the recipient. Manage the text within the opening and closing paragraph by typing directly into the corresponding text fields.
In the bottom section, use the checkboxes to include certain individuals or records in the notification.
A point of contact can be assigned by typing the individual's name and email address in the text boxes at the bottom.
Click Save Settings after any changes are made.