Entities are groups of individuals, business units, locations, etc. The hyperlinks under Entities in the Application Administration | Parties & Entities sidebar allows site administrators and super users to manage the Entities module.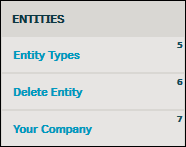 An Entity can be:
An external company
A subordinate company within the corporation using the Lawtrac application
An identified class of litigants
For additional information, please refer to the Parties/Entities section of the Lawtrac User Guide.