Finance Summary Labels
Last updated
Manage finance information that appears in matter screens.
Matter screen switches that are managed here are recorded on your matter's main screens and throughout the matter Finance modules.
Select Finance Summary Labels from the Application Administration | Finance Options sidebar under Financing. The purpose of the finance summary labels is to allow companies to use customized labels or descriptions.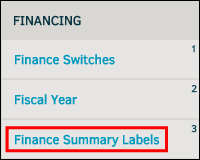 Enable the Finance Summary Label
Click the checkboxes

located to the right of a label to use the matter screen switch on screen.
Edit Finance Summary Labels
Type new text into the text boxes to change the title of the switches. These are the captions for the fields users see on matter and finance screens.
Click the radio buttons to turn a display on or off.
Select Save Matter Screen Settings when finished.