Add or delete fiscal years that are used for invoices.
The Fiscal Year hyperlink in the Finance Options sidebar allows site administrators and super users to add or delete fiscal year information that is used within the application.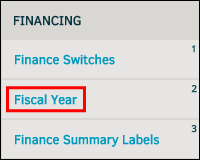 Fiscal Year settings in Lawtrac serve two primary purposes:
Provide an accurate drop-down list for users from which to select. These lists are in chronological order and default to "is now" (green icon).
Determine to what fiscal year incoming electronic invoices are associated.
The current fiscal year is designated by the
icon.
Adjust Fiscal Year Settings
Select and enter the year in the "Fiscal Year" text box.
Enter the start and end dates in the appropriate text boxes, then click .
Lawtrac automatically sets the quarter start and end dates based on the numbers you enter.
Click the
icon to delete a fiscal year from the Lawtrac application.