GCD Admin Settings Guide
Last updated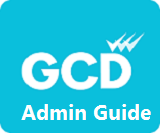 Hub for details on Administrator Settings in GCD. Admins can consult this guide for help with managing and creating user roles, adjusting custom fields and categories, and team-wide settings.
Welcome to the Administrator Settings Help for GettingContractsDone.
The following sections apply to settings tabs only available to Team Admins after clicking Settings in the upper-right corner of GCD. All other users will only see the User Options page after clicking Settings.