Using Document Inventory in Searching Client
Last updated
Here's how to use Document Inventory in searching Client.
This example has created the following Search Template.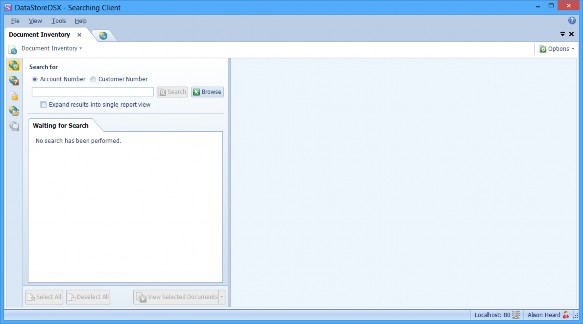 Search by Account Number
To search by account number, ensure Account Number is selected and type the account number in the text box. Alternatively, click Browse to view all the account numbers. The Browse All Available Values window is displayed.


Select the account number. In this example, select the appropriate tab to see the account numbers for the selected type of account. Once you have selected the account number, click OK to close the window. Click Search to search for the selected item. When the selected Account number has more than one Customer number associated with it, the Customer Number field is blank.


Click on the arrow next to the field to display the drop-down list of associated Customer Numbers.


The information fields for the selected customer are displayed and the document inventory items are also displayed.


This example shows that not all the required documents for the account are present. Although both forms of ID have been submitted, only one utility bill has been submitted, so another utility bill is required.
The stored documents can be viewed by selecting the documents and clicking the View Selected Documents button. The selected documents are displayed in the panel on the right. In the example below, the Utility Bills are selected. When multiple documents are found, select the required document in the grid.