Start Search
Last updated
When you have entered all the required information, click Start Search to begin the search. The search results will be displayed in the Search Results window.
Each search result in the results grid has an icon which shows the type of the file.
In this example, CSV, PowerPoint, Excel, Outlook, Pageable Word (see "Storage Format" for more information), Word, Text, TIF, PNG and PDF icons are shown.
Result fields with multiple values are displayed with a down arrow button to the right of the first result. Click on the arrow to display all of the results.
Result fields with multiple index sets are displayed with an extra column which enables the user to navigate between the index sets. In the example below, Record 1 has 2 index sets. The user can click > to see index set 2 then click < to return to index set 1.
If there are no search results with multiple index sets on the first page of returned results, this control is not displayed until the user navigates to a result which does have multiple index sets.
Outlook messages are displayed as shown. The email information is displayed in the document viewer pane. If the Outlook message includes an attachment, it is listed next to Attachments.
Double-click on a listed attachment to open it.
When an Outlook message is stored and then forwarded as an attachment in a new Outlook message, all the Word, PDF and Text file attachments as well as the Outlook messages can be viewed, sub-searched and full content text searched (if configured).
Click on the attachments within the messages until the required message is displayed.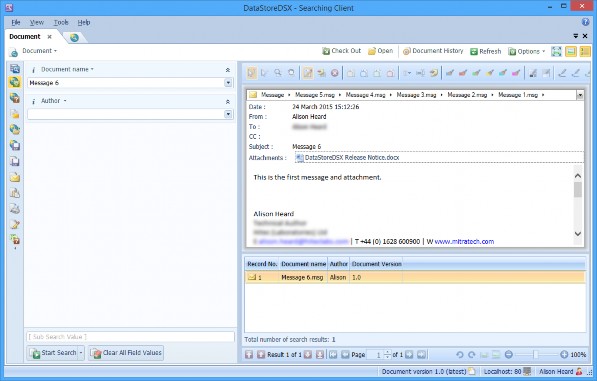 To return to the Outlook email message from the attachment, click on the word Message at the top of the document display pane.
| | |
| --- | --- |
| | To clear search field values, select the field's contents then press Delete on the keyboard. Or click the field's drop-down list arrow and, from the displayed list, click Clear Field Value. |