The Form Template: Drafts And Revisions
Last updated
Form Template Statuses: A High Level Overview
The steps provided in the article is performed by the Administrator of the CMO Application as the settings require the access to the Admin module.
Begin by logging into CMO
Navigate to the Admin Module.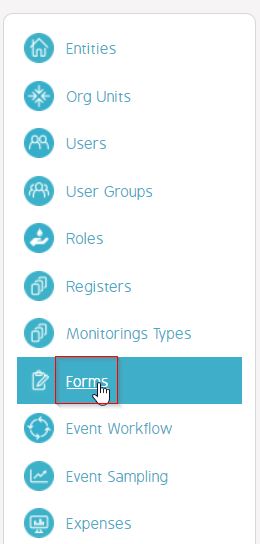 Following are the three different Revision State of the Forms in the system -
Active: Active state refer to the Form version that are Published by the Admin user. The new Events/ Audits / Forms (referring to the individual records here) created in the system for the Form will be using the template of the Current available Active/Published form.
The following screenshot shows the Active/Published version of the Form:
*Note: When a Form is published, the changes in the Form / Section / Question configuration will not affect previously created Events, only Events created against this most recent iteration going forward.
Draft: Draft state of the Form refer to the version of the Form that is available to make further modifications in the Sections/Questions setup or changes to the overall Form configuration in general (this is located @ the 'cogwheel' icon > Edit). The Draft version can be published by the user which will replace the current existing Active version of the Form.
The following screenshots shows the creation of the Draft version of the Form -
Archived: Archived state refers to those Forms which were published in the past and were in Active state but were later replaced by another Active version of the Form (when the next Draft version of the Form was Published.)
The following screenshot shows the Archived versions of the Form -
Please note that the Current ("active" or "published" status) Form moves to the Archived state when the next available Draft version of the Form is published.
Video Guide
Coming soon...