CMO - How to setup a Question in the Section to be mandatory to respond in the Form Configuration
Last updated
Goal - To assist the Admin user in setting up a Question in the Form Section to be mandatory. It is helpful in the case where the Response types to a question cannot be made mandatory. For example when all the response Types for a Question are Radio buttons.
The steps provided in the article is performed by the Administrator of the CMO Application as the settings require the access to the Admin module.
Begin by logging to the CMO Application.
Go to Admin Module.
Go to the Draft version of the Form.
Go to the required Section of the Form.
Go to the required Question in the Section.

In the 'Edit Question' window - Click 'More Options'.
Click Save to save the changes.
The selected Question has become mandatory now. When the Draft version of the form is published and a new Event is generated on the Form, the user is required to respond to the question as it is mandatory to proceed further in the Event.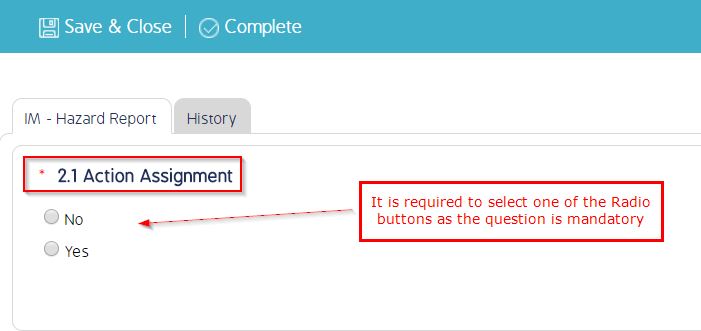 PLEASE NOTE - In the case when only the Question is made mandatory and none of the responses are made mandatory - the user is required to provide a response to atleast one of the response types for the question to proceed further.
Video Guide
Coming soon...