Configure an Event Workflow to trigger based on a specific Risk Ranking of the Event in the system
Last updated
Goal
Assist user in setting up the Workflow such that it triggers only with the set Risk Ranking (Low/Medium/High/Extreme) of the associated event in the system. Hence the Workflow will trigger for the associated event only when the user risks ranks the Event with the same ranking set up in the Workflow
As a pre-requisite, in order for the Workflow to trigger for an Event we need to ensure that the Workflow is already associated to the required Form.
Begin by logging to the CMO Application.
Go to Admin Module.

Go to Event Workflow on the left side.
Go to the required Workflow and click Edit.
In the 'Edit Workflow' window - ensure that the desired Form is listed in the Forms field.
Go to the 'Risk' field - Select from one or more of the Risk Levels to associate with the Workflow.
Here we have selected 'High', 'Low' and 'Moderate' risks for the workflow. Click Save to save the changes.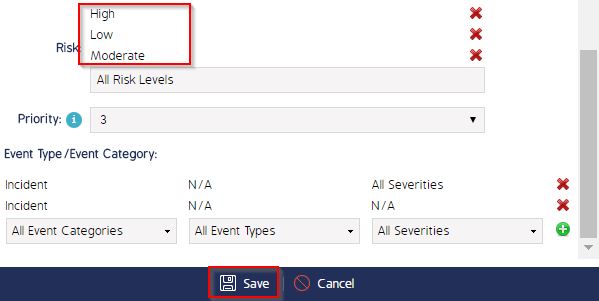 As a Result of this change - When the associated Event is generated in the system and the Risk Ranking is Low, High or Moderate - the configured Workflow is triggered for the Event.
Video Guide: