Assigning Org Units and Entities to a User Group
Last updated
Goal - To assist user in associating the Org Units and Entities to a User Group in the system
This article provides the steps to a user to associate a User Group with the Org Units and Entities in the system or to update the Assignments of the User Group.
Begin by logging to the CMO Application.
Go to Admin Module.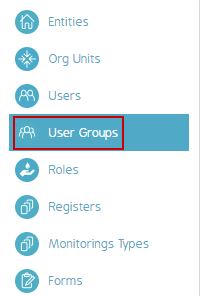 Click on the cog wheel for the required User Group and click 'Edit Assignments'.
Select from the List of the Org Units and Entities to assign to the User Group.
Click Save to Save the changes.
The selected Org Units and the Entities will be shown in the User Groups page as shown below: