View upcoming matter events.
Select Calendar from the Matters tab in the Left Navigation Bar to view all upcoming matter events for the next three (3) months.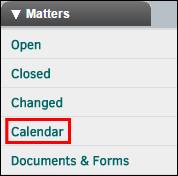 Click on the matter number to be directed to the matter detail page. When you "jump" to the Calendar tab within the record, you can add, edit, or delete events.
To view upcoming events that occur more than three months from the current date, use the date fields in the top right corner of the page to adjust the dates. Click Go to return results.