Closed Matters
Last updated
View closed matter records to which you are assigned.
Matters can be closed by the matter's in-house Legal team or by a site administrator.
Select Closed from the Matters tab in the Main Page Navigation sidebar to view all matter records with which you are associated that have been closed.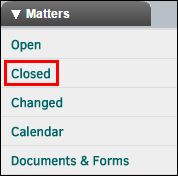 Click on the matter number to be taken to the matter detail page. You can make any changes that you were able to make when the matter was open.
Note: The Lawtrac database considers a matter record "CLOSED" only when the "Date Closed" field is populated, regardless of what is in the "Matter Status" field. The date on which the matter was closed is located in the Matter Detail section of the Main tab.